Getting Started With Blackboard
Last page update: February 24, 2016
Below is a summary checklist outlining the steps a new instructor should take in creating a course in the Blackboard course management system.

Getting Started Checklist:
1. Log in to Blackboard--Password help!
2. Add content to your course. (readings, exams, discussions)
3. Add a user (Student, TA, etc.) to your Bb site (see below for options)
4. Make the course Available
5. Review other resources available about the Blackboard system and Blackboard at CSM
Checklist Details:
1. Log in to Blackboard--first time users, or forgotten passwords
To log into Blackboard go to: https://blackboard.mines.edu/ .
The first time you log into your blackboard account (or if you have forgotten your blackboard password) click on the "Forgot your password?" link.


Fill in the information requested on the top half of the Forgot your password? page and click Submit. Remember to enter your official first name, unless you set the abbreviated format (Stephen vs Steve) as your official first name.










An email will be sent to your official campus e-mail address with a link from which you may set or reset your password.
When you access CSM's Blackboard for the first time, you must set a password--it is NOT propagated from other CSM systems. Please do not set your password to be the same as your e-mail password. For advice about creating passwords, see our Password Information Page. Passwords in the Blackboard system are case sensitive, so be sure to keep this in mind when you set/reset your password. To change your Blackboard password from within the system, click on the MyCSM tab, then select Personal Information > Change Password.

** NOTE: To make it easier to find your courses, click the cogwheel in the top right corner of the My Courses module.





On the resulting page, just under #1's paragraph, click in the checkbox Group by Term, then click the Submit button at the top right.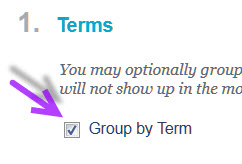 Now your My Courses module will be organized by semester and by campus categories, allowing you to minimize the non-current semesters and see only your current, live courses.
---
There are many ways to add content to your course. First, select the course to which you want to add content by clicking on it in the course ID or title under the Courses you are teaching section under the MyCSM tab. As the instructor, you can determine what content areas to make available to students and when to make the content available. You will find more specific information on How to Organize and Manage Content, here. It is most efficient to upload content in bulk via the Course Files area.
The Course Settings of most interest will be Course Availability (you can populate your course prior to making any part of it available), and Users and Groups. Once you experiment with building a course you will quickly learn these options. Most of the Content Areas should be organized into Folders and Items. Information is typically placed into content areas by uploading files from your computer. Browse through the Control Panel, especially Course Tools, and experiment with some of the features.
---
3. How to add users (students, Ta's, etc.)
Registered students are automatically added to Blackboard sites; the script runs daily for at least the first third of the semeseter, adding and dropping as students add/drop via Trailhead. However, there will be times when you need to add a student, a TA, or another instructor to your course. To do so:
Go to the Control Panel>>Users and Groups>>Users
Click the Find Users to Enroll button (top left)



If you know the person's username (username@mines.edu/username@mymail.mines.edu), enter it in the search line (do NOT click Browse), confirm that the dropdown in the next line is set to the correct course role, ie. Student, Teaching Assistant, etc., and click Submit. You're done.



If you do not know the person's Mines username, click the Browse button on the Find Users to Enroll page (circled above), and search by last name, click the checkbox next to their name, and submit. [Follow Steps 1-5 below.] Back on the Find Users to Enroll page(above), confirm the correct role is selected, and click Submit.



If a user does not appear in your search, it is very possible that this user is already enrolled. Scroll through the Users list (all pages) to check.
---
When you are ready to make your course available to students, go to the Control Panel, then select Customization, then Properties.
Scroll to #3. Course Availability. Click in the Yes radio button and Submit page. (top or bottom Right).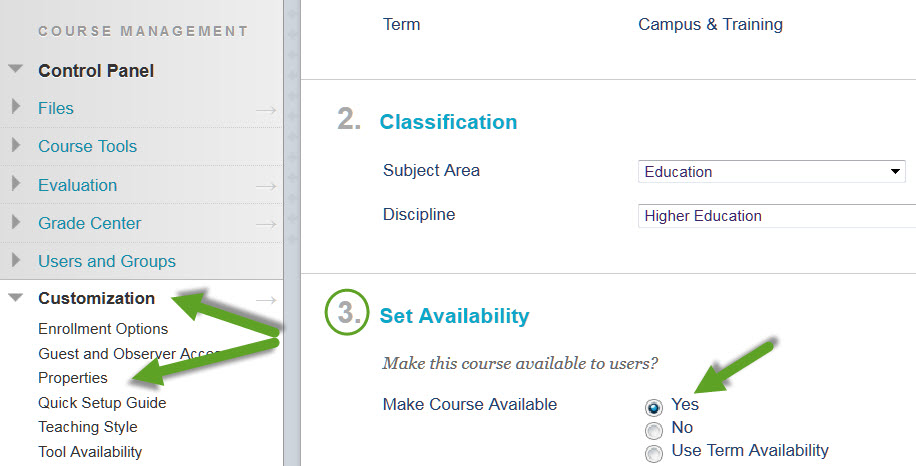 ---
---
5. Other resources available about the Blackboard system and Blackboard at CSM
Additional information to help you get started:
The (Instructor's) Online Manual is available in the Help section of every course Control Panel (bottom item)

There are three categories under the Control Panel link to Help: Blackboard Help for Instructors (virtual manual), Contact Support (CSM Bb support), and Video Tutorials

Additional [combo, cross-listed, and non-course] requests for Blackboard sites may be made

Here
">