Mines students host Rocky Mountain Energy Economics Banquet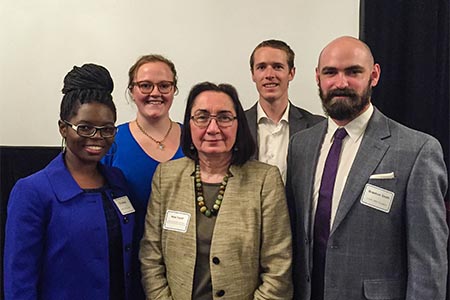 The third annual Rocky Mountain Energy Economics Banquet took place Oct. 27 at the Denver Athletic Club in downtown Denver. The event was organized by Colorado School of Mines' Mineral and Energy Economics PhD and MS students from the Division of Economics and Business. Keynote speaker, Mine Yücel, senior vice president and director of research at the Federal Reserve Bank of Dallas, discussed the effect of oil price changes on the United States economy. More than 90 people were in attendance.
The initiation of the Mines chapter of the United States Association for Energy Economics was motivated by the desire to help bridge the gap between academia and industry in the local energy community. This annual event is a unique opportunity to meet, network, and exchange ideas with local industry.

The banquet was a huge success and the event organizers look forward to an impressive year for student, faculty, and industry engagement.

Special thanks goes to the Payne Institute for Earth Resources, GE Ecomagination, Hogan Lovells, NREL's Joint Institute for Strategic Energy Analysis, and East Daley Capital for sponsoring this event.

To learn more about the Mines USAEE chapter, visit CSM-USAEE.blogspot.com.

A summary of the banquet is featured on OilandGas360.com.