Steps to Going Abroad
So you're thinking of studying abroad, that's great! Studying abroad will help you expand your horizons and learn about the amazing world around you. Studying abroad is also great way to round out your technical skills. We have outlined the key steps to helping you study abroad.
This page is compatible with Chrome and Firefox browsers. For an Internet Explorer compatible version click here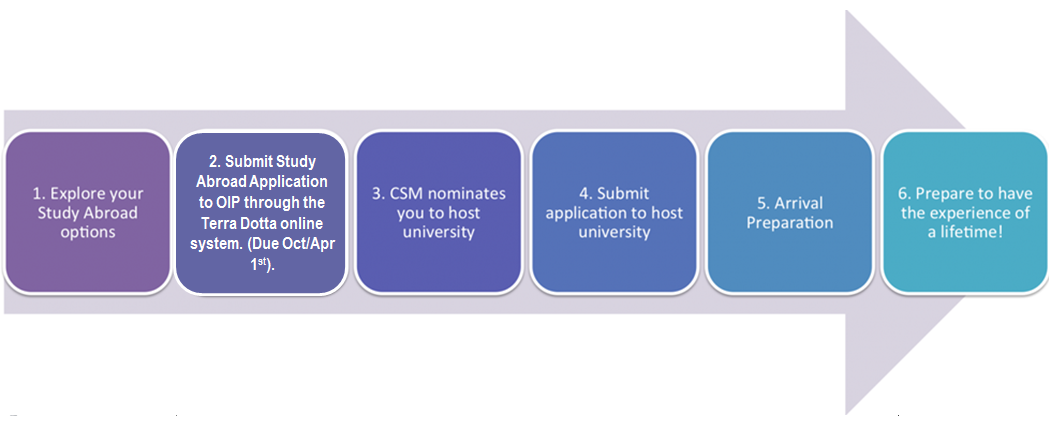 The deadline for getting all applications submitted is April 1st for the fall semester or October 1st for the spring semester.
Going abroad can be intimidating, and it can be difficult to know where to begin. At Mines it can seem especially difficult to study abroad, but we want to make sure that doing so does not get you off track from your studies. When picking a place, there are many things to consider such as courses offered, cost of living, housing, and cultural differences. The following pages can help provide you information on our partner universities, approved courses, and general country information. We encourage you to look around, challenge yourself, and have fun!
Things to consider when choosing a location:
Cost of living

Transportation

Housing (University provided or rentals)

City or rural

Culture

GPA Requirements

Host Application Deadlines

Semester dates (these vary greatly by country)
Approved courses
Getting courses approved for international travel is often one of the most time consuming parts of going abroad. To help best prepare yourself, we recommend first sitting down with your flow chart and matching up courses with your curriculum. Note: some courses are only offered one semester, so the courses offered may not only be a factor in where you go, but the time you go abroad as well.
Here is a list of courses that have been approved in the past. Note: If a course has been approved in the past, it is likely it will get approved again. However, this does not necessarily mean the class will transfer again. Please come see OIP for advice on searching for classes and getting approval for courses.
Partner Universities
There are two main programs for international study: study abroad and exchange.
A study abroad program means that you would not pay Mines tuition. Instead, paying tuition to the host university. Outside scholarships may or may not apply to this type of agreement.
An exchange program must be done through a Mines partner university. In an exchange program, you pay Mines tuition as if you were attending Mines. (All scholarships and financial aid apply.)

Just because a school is denoted as an exchange university does not guarantee an exchange agreement. Talk to the International Office to confirm charges.
Spring Semester Application deadline: October 1st
Fall Semester Application deadline: April 1st
To study overseas you need to meet these requirements:
A minimum cumulative GPA that meets the criteria for the chosen school
In good standing with Colorado School of Mines (not on academic or disciplinary probation)
A student at Colorado School of Mines
Eligible students interested in studying abroad should submit an online application through the Terra Dotta Website. The application will be online for students who will be studying abroad beginning in the Spring 2018 Term.
To access the Terra Dotta Application, click HERE
Note the link for our online application will go live on August 19th.
After you have submitted your application, Mines OIP will review the applications and select the applicants that we believe will be good international representatives of Mines. Once you have been accepted, you may apply to the host university. (Be aware, the host application deadline may be before the Mines OIP deadline.)
The host university application varies depending on the school you would like to study at. If the application is sent by mail, make sure you allow enough time for your application to reach the host university by the deadline. The OIP will gladly mail applications to your host university on your behalf.
*make sure to check the host university application deadline early in the study abroad process.
Congratulations, you've been accepted to study abroad!! Now it is time to make sure you have all necessary documentation to enter the country. It is required that every study that travels abroad attend our Ready, Set, Go Abroad workshop offered every semester.
Visa/Residence Permit (if required)

Plane tickets & other transportation considerations

Travel Safety

Mental Preparation

Packing List
Send us a postcard!
Don't forget to take lots of pictures and send them in to our photo contest on your return.
Have fun, be safe, and as always contact us with any questions.