WHERE CAN I PARK?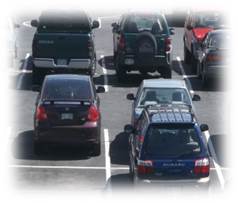 MINES ® is a PAY-TO-PARK campus. Parking Services enforces the parking policy from 7am until 5pm, every Monday through Friday, including holidays and semester breaks; other violations are enforced by Public Safety officers 24/7.
Permit types are color coordinated to where you may park. If you have a permit, please park in the lots associated with the color of your permit.
CAMPUS PARKING POLICIES ARE ENFORCED YEAR-ROUND, INCLUDING HOLIDAYS, SUMMERS, AND SEMESTER BREAKS ~
A current and properly displayed campus parking permit is required to park anywhere within the campus boundaries, in parking lots, on campus streets, and in the Mines Park area. Parking meters are available for use throughout campus and a current meter receipt allows parking in any blue or yellow lot, as well as in Mines Park. See the small orange circles on the map for meter locations.
VISITOR PARKING Visitor spaces are for visitors only with a meter receipt displayed. All others parking in marked visitor spaces may be ticketed. A visitor is anyone not identified as faculty, staff, or student. More Visitor information...
RESTRICTED AREAS Meter receipts are not valid in red lots, which are reserved exclusively for faculty and staff with special permits. Other parking restrictions include fire lanes, handicapped spaces (except with HC placard or plate), no-parking zones, loading docks, and service spaces.
CITY ENFORCEMENT DISTRICT The City of Golden has implemented a permit policy in the residential areas surrounding this campus. Parking by anyone other than residents of these communities will be ticketed by the City of Golden. These boundary areas are noted on the campus map by in the white areas, not shaded in gray.
PERSONS WITH DISABILITIES ADA accessible parking is available in various locations across campus. In addition to an ADA placard or license plate, persons with disabilities may park in any marked ADA space on campus while displaying a current campus parking permit issued by Parking Services or from a parking meter.
PARKING OVER BREAKS AND DURING SUMMER MONTHS Contact the Parking Services office if you need to leave your vehicle overnight. For safety purposes and ease of snow removal, Public Safety and Parking Services request that during extended absences from Mines, both students and employees park in Lot AA or Lot Q; this includes residents of Mines Park. Anytime vehicles are left on campus overnight, they must have a valid parking permit and vehicle registration. Parking Services reserves the right to request that an "Extended Parking Form
" be submitted prior to leaving campus.
CONTRACTORS Contractors working on the CSM campus are not considered visitors and must pay the daily parking rate inside the Parking Services office or at any parking meter. If special consideration is needed to park in any of the locations listed below, contact Parking Services before leaving your vehicle unattended in these areas. Contractors may not park in any of the following areas without exclusive permission from the Parking Services office:
Service Spaces
Fire Lanes
Handicap Spaces
Reserved Lots
On the sidewalk or grass
On the pedestrian walkway
STUDENTS & EMPLOYEES
Commuter students can choose from a General (blue) or Commuter (yellow) parking permit, while supplies last. General permits sell out quickly at the beginning of Fall semester and if none are available when the student makes his purchase, he/she may add their name to the General Waitlist for consideration when more general permits become available for Spring semester. For specific pricing, select "options and prices" in the right hand column.
Faculty & Staff employees may also choose from General (blue) or Commuter (yellow) parking permits. Employees may also request reserved parking if it is available. If interested in reserved parking, employees should add their names to the waitlists for up to 3 reserved lots.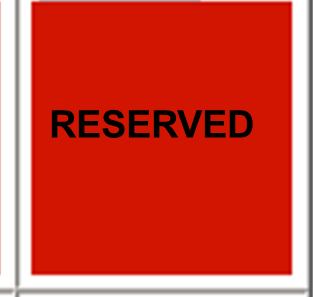 Red lots are Reserved Monday thru Friday from 7am until 5 pm ~~ exclusively for Faculty & Staff with special red permits. Reserved permits reference the lot they are assigned to park in and parking in other reserved lots is prohibited. Those with reserved permits may park in Mines Park or Commuter lots, but parking in blue, General parking areas is prohibited.
Blue (General) permits allow parking within all General lots identified on the campus map in blue, on-streets within the campus boundaries, in yellow lots and in Mines Park.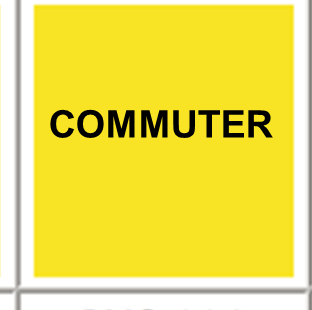 Yellow (Commuter) permits allow parking exclusively within all Commuter lots and areas identified on the campus map in yellow, as well as in Mines Park.
Purple (Resident) permits are issued to resident Freshmen who receive a permit through the waiver or lottery system to park exclusively in Lot AA. During the summer months, Freshmen with a current Resident permit may park in Commuter parking areas without fear of receiving a citation for being parked outside their permit area. Freshmen without a permit may purchase a Commuter permit directly from the Parking Services office during the summer months.
Green (Mines Park) permits are valid only in Mines Park and must be visible when parked in Mines Park. Contact Parking Services for your permit.
Free temporary parking permits are available at the Parking Services office, exclusively for non-campus guests of Mines Park residents...Residents should bring the license plate number of your guests to get a free visitor permit.
Parking meters are available near the East entrance of Mines Park for your convenience.
Those with Motorcycle permits should park within the boundaries restricted by their current permit type. Motorcycles may park in any vehicle space or in cross-hatched areas at the ends of parking rows. Motorcycles will be ticketed if parked in the space next to a marked handicapped stall or other restricted area.
Refer to the campus map
for specific lot information.
Daily scratch-off permits are available at the Parking Services office at the current daily meter rate. These daily permits are valid for one-day only, and can be purchased in advance for any future date.
Displaying a parking permit indicates you have read and understand the information contained in the CSM Vehicle Operation and Parking Policy and does not guarantee a parking space at your preferred location.
After reading the Vehicle Operation and Parking Policy , click HERE to purchase a permit.