Planning and Construction Projects
Projects in Design:
(Website Under Construction)
The Edgar Mine located in Idaho Springs recieved a grant to improve the infrastructure, including the road and utilities as well as design of a new classroom building and Dry building
Morgan and Randall have been upgraded; look for similar upgrades to Thomas and Bradford in the Summer 2016
Projects Under Construction:
• Ben H. Parker Student Center - contact Robert Lee
The Ben H. Parker Student Center has undergone a major renovation to approximately 60-percent of the building. All of the west wing has been renovated to include a larger bookstore, a remodeled kitchen and food court. In the east wing, the current bookstore and Digger Den will be renovated to include spaces for several student organizations. Construction is to be completed Spring Semester 2016.
Projects Recently Completed:
Elm Residence and Dining Hall - Now serving the entire campus, Mines Market, within Elm Hall, is a 600 seat two level dining room serving fresh, healthy, traditional and international options throughout.
.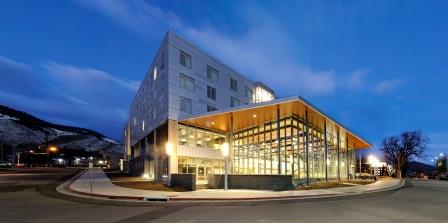 Korell Athletic Center & Marv Kay Stadium at Campbell Field - The Athletic Center which includes North and South buildings, a soccer/track building and concessions.

Starzer Welcome Center - Houses Student Admissions, Alumnit Association and the Mines Foundation.
CPC Directory
Capital Planning and Construction
1801 19th Street
Golden, CO 80401
Main (303)273-3568
FAX: (303)273-3534
CPC@mines.edu
Chris Cocallas, AIA
Director of Capital Planning and Construction
Campus Architect
(303)273-3566
Mike Bowker, PE
Associate Director
(303)384-2034
Kathy Burris
Business and Operations Manager
(303)273-3566
Robert Lee, AIA
Architect
(303)384-2519
Rita Kowalski
Department Assistant
(303)273-3947
Susan Miner, AIA
Architect
(303)384-2517
Denise Kincaid
Contract Administrator
(303)273-3615
Gordon Thomson
Construction Project Manager
(303)273-3338