Professional Development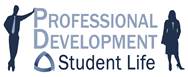 The Student Life Professional Development Committee is responsible for providing opportunities and resources which promote professional development and personal growth. The primary goal of this website is provide you with information on the various programs and services that are offered to enhance your overall learning and development.
The Professional Development committee shall strive to:
Create professional development opportunities that prepare staff to work with ever-changing college students;
Connect members of the Division with one another;
Identify and address issues and current topics of interest;
Facilitate the exchange of ideas through programs, websites, webinars, and workshops;
Recognize the accomplishments and efforts of staff members who contribute to the improvement of the student experience at Mines;
Develop a set of core competencies within the staff that can be used to aid students in their success.
The Student Life Division takes great pride in being able to collaborate with other departments and organizations to help make the Mines' campus a better place to work. We also strive to make all of our staff feel empowered and inspired to do great work. While the programs and services offered on this website are focused on serving the Student Life staff, most activities are open to the entire campus community.
---
Student Life Administration
For a complete listing of Student Life Resources click here.