Past Professional Development Events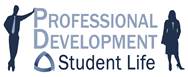 Workshops/Presentations
March 10, 2015
Student Employee Learning Outcomes Presentation and Workshop
Presenter: Brice Bleem, Residence Life
Description: Do you supervise student workers? Do you want your student workers to see the educational and professional value in their position? Come join the Residence Life Coordinator team to learn about writing learning outcomes for student workers. We will cover what a learning outcome is, how to effectively write them, the impact they can have, and options on how to use them effectively with student staff. We will also show you what we have done with learning outcomes in Residence Life to maximize the learning that takes place in all of our student positions.
During the second half of our time, we will provide a workshop type environment with hands on help, examples, and templates to assist you in writing learning outcomes for your specific student positions.
January 2014 - The Business of Communication: How One Diagram Can Make You a More Effective Writer and Speaker, Sarah Jayne Hitt, Ph.D.
January 2013 – Ergonomics and Occupational Therapy, Mike Gawronski
November 2012 – 30 Ways to Use Technology, Matt Marcus – Presentation
April 2012 – Practical Application of College Men's Gender Identity Development, Keith Edwards – Presentation
March 2012 – Emerging Adulthood, Jody Donovan & Kacee Collard Jarnot
Readings & Videos
Power of Introverts
Maximizing Your Workplace Efficiency
Giving and Receiving Thanks (December 18, 2013)
Field Trips
Edgar Mine
Foundary
Marquez Hall
CASA & Wellness Center
Clear Creek Athletic Complex (October 9, 2013)
Student Life Administration
For a complete listing of Student Life Resources click here.