Professional Development Upcoming Events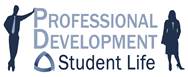 Generation Z Slide Show
Click here to learn about the latest generation of college students: Gen Z
Marketers have been focused on Gen Y (a.k.a. Millennials) for more than a decade. In fact, Millennials are the most researched generation in history! But Gen Z (born 1995 to present) is different from the Millennial generation. In many ways, Gen Zers are the opposites or extreme versions of Millennials and we need to adjust to them. We are just beginning to understand Gen Z and its impact on the future, but this report explores what we know and foresee.
RECENT EVENTS
March 10, 2015
Student Employee Learning Outcomes Presentation and Workshop
Presenter: Brice Bleem, Residence Life
Description: Do you supervise student workers? Do you want your student workers to see the educational and professional value in their position? Come join the Residence Life Coordinator team to learn about writing learning outcomes for student workers. We will cover what a learning outcome is, how to effectively write them, the impact they can have, and options on how to use them effectively with student staff. We will also show you what we have done with learning outcomes in Residence Life to maximize the learning that takes place in all of our student positions.
Here are some of the resources that we spoke about in the presentation:
http://sllo.tamu.edu — Student Leader Learning Outcomes
http://www.learningoutcomesassessment.org — National Institute for Learning Outcomes Assessment
http://www.aallnet.org/Archived/Education-and-Events/cpe/outcomes.html — American Association of Law Libraries (Great Overview of writing L/Os)
http://www.aacu.org/leap/essential-learning-outcomes — AACU
Student Life Administration
For a complete listing of Student Life Resources click here.