Matt Copley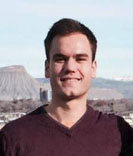 Originally From: Houston, TX
Degree Program: MSc Geophysics
Email: mkcopley@mymail.mines.edu

EDUCATION
I graduated in 2014 from Santa Clara University with a BS in Physics where I developed an interest in the field of geophysics after taking both geology classes offered at SCU and working as a geoscience intern with three small exploration companies in Indonesia and Malaysia (Tately N. V., 2012; Bukit Energy Indonesia, 2013; Matrix Capacity Petroleum, 2014). I then went to the University of Houston and graduated with a post-baccalaureate BS in Geophysics in 2016.
At UH, I researched seismic signal acquisition using piezoelectric receivers with the Allied Geophysical Lab in the summer of 2015. In the fall of 2015, I joined the Conjugate Basins, Tectonics & Hydrocarbons Consortium, where I created a gravity-magnetic model of the asymmetric rift margin between East Africa and Madagascar and assessed its hydrocarbon prospectivity. I presented my research in a poster at the 2016 AAPG ACE Convention in Calgary.
I joined RCP in the Fall of 2016 to pursue a MS in Geophysics. After taking several geology courses, emphasizing structural interpretation in both 2D and 3D seismic at CSM, I've had the privilege to supplement my Geophysics MS with a minor in Geology.
RESEARCH INTERESTS
Working with the Wattenberg Field project data, my thesis focuses on the use of converted shear (PS) time-lapse (3C 4D) seismic data in a joint simultaneous PP-PS inversion to estimate elastic parameters (P- and S-Impedance, density) and Lame parameters (rigidity, incompressibility) with time, as we stimulate and produce from our reservoir. With this inversion, I will use synthetic models, alongside my real data, to investigate which types of anisotropy are present in the Wattenberg Field.
PERSONAL INTERESTS
I'm excited to be living in Colorado, as I plan to take full advantage of outdoor activities -- mainly hiking and skiing. On weekends, you may find me improving my inconsistent golf swing at the driving range or enjoying a casual game of ultimate frisbee. Otherwise, I enjoy a wide variety of books, food, movies and live music.