Desk Assistant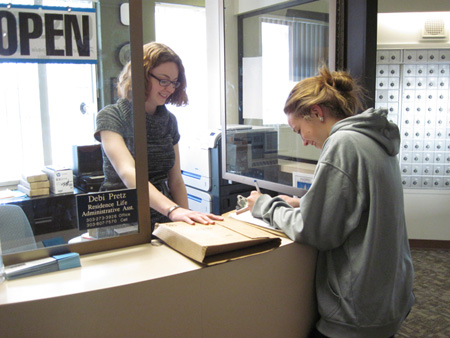 "What is a Desk Assistant?" you ask. Currently, we have 35 student workers, a/k/a Desk Assistants (DAs), who work up to 20 hours/week at one or more of our front offices in Weaver Towers (also serving residents who live in the Residence Hall Apartments at Mines Park), Maple Hall (who will also assist in the needs of residents in the upcoming new Aspen Hall), and the Traditionals Residence Halls. In addition to our full-time professional staff, our Department hires student workers in the spring semester for the following year to assist not only this staff, but work with our #1 customers – our residents! The job duties of our Desk Assistants vary day-to-day; even shift-to-shift! Our job is to make sure our residents in particular (as well as all students, parents, faculty/staff, etc.) always know they have someone to contact at all hours of the day and night.
Our DAs ensure our "customers" have their mail delivered promptly during the week. "Which Hall Director and/or RA are on duty tonight?" Our DAs cross-check the duty schedule, making sure proper staff names and numbers are clearly posted at each office. To get a break from studying, many residents prefer to clean their rooms. But what do they use – even at 10pm? To the front desks they go – checking out a vacuum, cleaning supplies, mop and bucket – maybe some Windex! Maybe a resident has an EPICS presentation this afternoon and needs an iron/ironing board for their presentation clothing. Come speak with a DA on duty and check the iron and board out! Or, it's a weekend and residents take some time away from preparing for next week's Labs or studying for a mid-term.
Each desk keeps a variety of games – from "Twister" to cards; Texas Hold 'Em – or maybe some Monopoly! While our DAs are at the front desks, processing mail or checking out packages; working on projects with the full-time Administrative Staff, cross-checking the Duty Roster, our residents can check out a game or two, pick up their mail, buy stamps, get change for a snack, and pick up some cleaning supplies (maybe a few trash can liners for trash and/or recycling) – all in one stop! Need some directions for around campus or some suggestions in downtown Golden to buy that perfect gift, but are just not sure in which direction to head? Most of our DAs are upper-class students – either living on campus or in/near Golden – and can be a wealth of information, especially for our new students! Our DAs are knowledgeable, dedicated, and extremely helpful to both residents and staff, and know what it was like to "be the new kid(s) on the block." Having a happy, helpful DA there during the days and evenings – seven days/week – is so beneficial: not just to our students but to our Department, as well!
How can I be a part of this awesome team/department? And get paid for doing it, too?
Summer DA Positions Apply Here