Roderick Eggert, Professor, and Deputy Director, Critical Materials Institute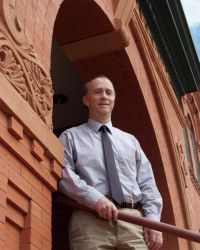 Contact Info
reggert@mines.edu
Office: 115, Engineering Hall
Phone: 303-273-3981
Fax: 303-273-3416
Curriculum Vitae
Statement before the Committee on Energy and Natural Resources
, U.S. Senate, on S. 1600, The Critical Minerals Policy Act of 2013, January 28, 2014.
Education
PhD, Mineral Economics, The Pennsylvania State University, 1983
MS, Geochemistry and Mineralogy, The Pennsylvania State University, 1980
BA, Earth Sciences, Dartmouth College, 1978

Courses Taught
EBGN 302 Intermediate Macroeconomics
EBGN 315 Business Strategy
EBGN 510 Natural Resource Economics
EBGN 515 Economics and Decision Making
EBGN 580 Exploration Economics
Research Interests
Areas of Specialization
Natural resource and environmental economics
Applied microeconomics
Areas of Application
Mineral exploration
Mining, minerals, and sustainable development
Mineral policy
Mineral and metal markets

Recent Publications

EXPERT PANELS REVIEWS
American Physical Society (APS) and the Materials Research Society (MRS), Energy Critical Elements: Securing Materials for Emerging Technologies (APS and MRS, 2011). I was a member of the study committee.
Committee on Critical Mineral Impacts on the U.S. Economy, U.S. National Research Council, Minerals, Critical Minerals, and the U.S. Economy (Washington, D.C., National Academies Press, 2008). I chaired the study committee.

JOURNAL ARTICLES AND BOOK CHAPTERS
"Perspectives on Pathways for Cadmium Telluride Photovoltaic Module Manufacturers to Address Expected Increases in the Price of Tellurium," Solar Energy Materials and Solar Cells, vol. 115, August 2013, pp. 199-212. Co-authored with M. Woodhouse, A. Goodrich, R. Margolis, T. James, R. Dhere, T. Gessert, T. Barnes, and D. Albin.
"Mining, Sustainability, and Sustainable Development," in Philip Maxwell, editor, Australian Mineral Economics, Monograph 24 (Carlton, Victoria, Australia, Australasian Institute of Mining and Metallurgy, 2013). Updated and revised version of 2006 book.
"Supply-Chain Dynamics of Tellurium, Indium, and Gallium Within the Context of PV Manufacturing Costs," Journal of Photovoltaics, vol. 3, no. 2, April 2013, pp. 833-837. Co-authored with M. Woodhouse, A. Goodrich, R. Margolis, T.L. James, and M. Lokanc.
"Deep-Sea Mining of Seafloor Massive Sulfides," Marine Policy, vol. 34, 2010, pp. 728-732. Co-authored with P. Hoagland, S. Beaulieu, M.A. Tivey, C. German, L. Glowka, and J. Lin.
"What Sustainability and Sustainable Development Mean for Mining," pp. 19-32 in J. A. Botin, editor, Sustainable Management of Mining Operations (Littleton, Colorado, Society of Mining, Metallurgy, and Exploration, 2009).
"Depletion and the Future Availability of Petroleum Resources," The Energy Journal, vol. 30, no. 1, 2009, pp. 141-174. Co-authored with Roberto Aguilera, Gustavo Lagos, and John E. Tilton.
"The Boom in Mineral Markets: How Long Might It Last?" Resources Policy, vol. 33, no. 3, September 2008, pp. 125-128. Co-authored with M. Radetzki, G. Lagos, M. Lima, and J.E. Tilton.

ESSAYS AIMED AT GENERAL AUDIENCES
"Energy-critical elements for sustainable development," MRS Bulletin, vo. 37, no. 4, April 2012, pp. 405-410. Co-authored with A. Hurd, R. Kelley, and M. Lee.
"Minerals go critical," Nature Chemistry, vol. 3, September 2011, pp. 688-691.
"Critical Minerals and Emerging Technologies," Issues in Science and Technology, vol. XXVI, no. 4, Summer 2010, pp. 49-58.