About CoRE - History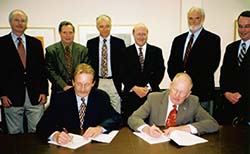 On October 16, 2003, the Colorado School of Mines and the ChevronTexaco Energy Technology Company (ETC) entered into an agreement for a Program Development and Execution Plan for the purposes of establishing the Chevron Center of Research Excellence (CoRE). This long-term symbiotic relationship is built around earth-science-related research and development, as well as education and training of Mines' students and staff and ETC staff. CoRE is an innovative industry-academic partnership between the Colorado School of Mines and Chevron that promotes the Research, Education, Training, and Recruiting objectives of both organizations and is shaped in the context of common value drivers.
"Research in earth science will form the initial focus, but the long term greatest value [for Chevron] is likely to come from the educational opportunities that are created for Chevron employees (especially non-US employees)."
- Donald L. Paul, 2004, Chevron Vice President and Chief Technology Officer
The first students educated through the CoRE program were Chevron employees from international business units (IBUs). However, in 2010, given the increased availability of higher education opportunities close to IBUs, the CoRE Decision Review Board (DRB) decided that the Education component of CoRE should no longer be a primary driver, but rather a bonus when it fits for international Chevron employees. Since that time, CoRE has supported 4-6 non-Chevron employee graduate students per year who pursue M.S. or Ph.D. degrees. Under the CoRE concept, ETC and Mines agree on an annual portfolio of research projects to be conducted by Mines faculty, students, post-doctorates, and staff, and managed by the DRB. Students support CoRE research through individual projects in one of the Center's focus areas: deepwater, fluvial, and shallow marine. Download CoRE's brochure
or learn more about CoRE's research.
Opportunities for Graduate Students