Welcome Center Parking Lot Closure 4-3-19
04/03/19
« Back
Six visitor parking spaces at the Welcome Center will be closed on Wednesday, April 3. Please see map below.
The Spruce Hall contractor will be working on utility potholing all day in this area.
As always, please be aware of your surroundings near work areas and follow construction signage and safety personnel's directions.
Thank you for your cooperation.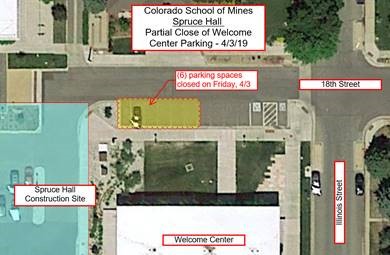 News
(03/08/19)
Moly Annex Power & Data Outage 3-8-19
COLORADO SCHOOL OF MINES 1801 Moly Road Golden, CO 80401 (303) 273-3330 Phone EMERGENCY / SERVICE OUTAGE MEMORANDUM Notification Date: March 7, 2019 To: ...
Maintenance Notices
Routine and preventative maintenance which involve service interruptions are posted here. Please bookmark this page!