About Us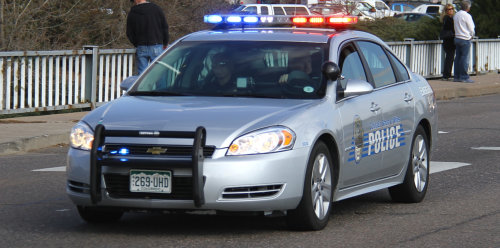 MINES POLICE DEPARTMENT
Our Police Department consists of eleven sworn full-time law enforcement professionals, and one full time civilian employee.
The CSM Police Department professional standards division ensures the quality of training and certification of police officers and departmental staff as well as deals with all citizen complaints.
The Police Officers employed by the Department are fully trained police officers in accordance with the Colorado Peace Officer Standards and Training (P.O.S.T.) Board and the Colorado Revised Statutes.
Our staff is dedicated to making your time at the Colorado School of Mines a safe and pleasant experience.

The Mines Police are dedicated to maintaining an environment that is safe and allows our educational mission to occur without disruption.
We are committed to enhancing the quality of life of the campus community and primarily responsible for developing services, programs, and strategies for maintaining a safe campus.

As Colorado State Certified police officers, we work in close cooperation with our neighboring law enforcement agencies to include the Golden Police Department, Jefferson County Sherriff's Office, Colorado State Patrol, Colorado Bureau of Investigation, as well as several federal agencies to also include the Federal Bureau of Investigation, Federal Police, and Homeland security.
We're happy to assist you in police matters with those agencies when appropriate.

All of our police personnel are in direct radio communication with the Golden Police Department Dispatch. If, at any time, you have a need for assistance, you may approach any of us. If they cannot help you, they will be able to contact someone who can.

INVESTIGATIONS
In addition to actively investigating current criminal cases, CSM police officers also review reports of old, or "cold," crimes. CSM officers with investigative training follow up crime reports that have investigative leads. The lead detective analyzes each assigned case and issues felony or misdemeanor summonses or obtains arrest warrants when required.

CSM detectives coordinate with the district or city attorney's offices for the filing of all criminal charges.

CSM Police Department crime reports containing information that may affect the security or safety of other CSM departments and divisions are routed to those units and appropriate administrators as necessary.
ADMINISTRATION
The Colorado School of Mines Police Department provides: records, evidence, training, and general office support.
Training: In addition providing core training to the CSM police department staff and officers, the training division works closely with the campus community to provide resources and training programs for CSM and local community.
STUDENT EMPLOYMENT
For all student employment opportunities please contact Public Safety (303) 273-3333

Current employment opportunities:
CSO (patrol support/ building, and event security)
CSM PD Main Office:
1812 Illinois Street
Golden, CO 80401
(303)273-3333
(303)273-3361 fax:

Administrative office hours:
Monday - Friday 8:00 A..M. to noon
and 1:00 P.M. to 4:00 P.M.
After hours, an on-duty
Mines Police Officer can
be reached by calling
(303) 273-3333 and touching option 5
or by calling the City of
Golden Police Dispatch
at (303) 384-8045 or 911
Chief/ Director:
Greg Bohlen
Commander:
Dave Cillessen
Corporal:
Patrick Bahl
Office Manager:
Carol Golob