VISITOR PARKING
Colorado School of Mines is a Pay-to-Park campus.
Visitor parking is authorized in the blue and yellow lots where our "pay and display" parking meters are located. Parking meters appear as orange circles on the campus map.
Although we have identified specific visitor spaces in most of these lots, visitors may park in a marked visitor space or in any other valid parking stall in these lots, when using our 'pay and display' parking meters. Parking in red lots is restricted to faculty and staff members with special permits only.
When planning to visit the campus for the first time, identify the area on the map you would like to park. Then, on arrival, find a space in that lot, pay the meter for the amount of time you plan to be here, then display your receipt face up on your dash. You'll find parking brochures with maps at all of our meters to help guide you around campus.
METERS and RATES
Our meters accept cash (no pennies) and cards, but be careful, they do not give change. Visitors and others with temporary parking needs should plan to use one of the meters (shown below). A receipt from any blue lot meter is usable in all blue lots and on our campus streets shown on the map. For lower cost parking, a receipt from a meter in our yellow (Commuter) lots allows parking exclusively in the yellow areas, as well as in Mines Park. If you discover a meter that is not functioning, please contact the parking office, then locate another meter for your purchase.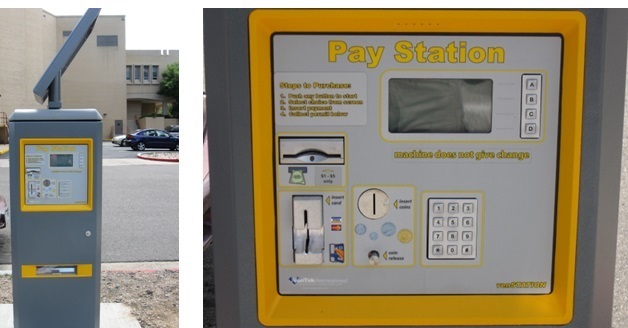 | | |
| --- | --- |
| GENERAL | COMMUTER |
| $1.50 per hr | $1.00 per hr |
| $8.00 per day max | $5.00 per day max |
RESTRICTED AREAS
Meter receipts are not valid in red lots, which are reserved exclusively for faculty and staff with special permits. Other parking restrictions include fire lanes, handicapped spaces (except with HC placard or plate), no-parking zones, as well as loading docks, and service spaces.
PARKING IN RESIDENTIAL AREAS
The City of Golden has implemented a City permit requirement in the residential areas surrounding campus. Parking by anyone other than residents of these communities will be ticketed by the City of Golden. These areas are shown on the campus map as those outside the gray highlighted campus boundaries.
FUTURE VISIT?
Daily scratch-off permits are available at the Parking Services office at the current daily meter rate and can be purchased in advance for use on any future date. These daily permits are valid for one-day only and must be scratched for the month and day used. Vehicles displaying an unscratched permit may be ticketed.
PERSONS WITH DISABILITIES
ADA accessible parking is available in various locations across campus. In addition to an ADA placard or license plate, persons with disabilities may park in any marked ADA space on campus while displaying a current campus parking permit issued by Parking Services or from a parking meter.
WHERE IS THE PARKING OFFICE?
Parking Services is located at 1922 Jones Road, Bldg. 1, Apt. 5, Golden, CO 80401.
Your comments and concerns are important to us, so please let us know what other ways we can assist you.