Parking Garage Concrete Pour/Traffic Notice 7-25-19
07/25/19
« Back
COLORADO SCHOOL OF MINES
1801 Moly Road
Golden, CO 80401
(303) 273-3330 Phone
CONSTRUCTION NOTICE
Notification Date: July 18, 2019
To: GRL, GRLA, FM, EMI, LB, Volk Occupants
From: Clay Bosworth
Emergency Contact Info: 512-954-5607
Outage Date: Thursday, July 25, 2019
Outage Time: 7am to 3pm
Purpose: The Parking Garage project contractors (1400 Maple St.) will be doing a large concrete pour
Effect(s) on Occupants: This activity will involve a concrete pump truck on site and some traffic congestion on Maple Street. The road in front of GRL will narrow down to one drive lane. See map below.
Construction flaggers will be directing traffic. Please follow their instructions.
Please notify all personnel affected by this construction activity. If this work creates an unmanageable problem, or you desire additional information, please call 303-273-3330.
Thank you for your cooperation.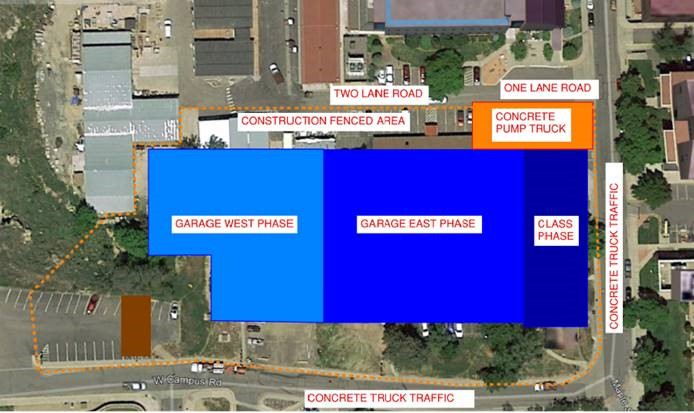 News
(07/03/19)
Wellness Center HVAC Maintenance 7-3 to 7-5
COLORADO SCHOOL OF MINES 1801 Moly Road Golden, CO 80401 (303) 273-3330 Phone EMERGENCY / SERVICE OUTAGE MEMORANDUM Notification Date: June 13, 2019 To: ...
Maintenance Notices
Routine and preventative maintenance which involve service interruptions are posted here. Please bookmark this page!